Wesbank Personal Loans – Wesbank offer personal loans in partnership with Direct Axis, that are convenient and affordable for anyone in South Africa at a fixed interest rate for the term of the loan. Wesbank is a financial services and credit provider in South Africa. The institution practices responsible lending at all times complying with the National Credit Act of 2015.
Tell me more about Wesbank Personal Loans
Wesbank Personal Loans range from R5 000 right up to R150 000 in increments of R1 000 at a fixed interest rate for the term of the year. This is an advantage to the customer because they will not be affected by interest rate hikes. Clients are allowed to choose their own repayment terms from 24 months up to six (6) years. Loans are provided in partnership between Wesbank and Direct Axis, another specialist in personal credit solutions. Wesbank loans are unsecured loans, you do not need to provide any collateral in order to apply for the loan, anyone is welcome to apply.
Once applied, Wesbank and Direct Axis will conduct profile credit check such as affordability assessments and so on. They will use information from the tests to give you a personalised loan amount which you can easily afford to pay back. The assessments are very important to the both institutions to comply with the National Credit Act as well as to avoid reckless lending.
To apply, you have two options, one is to apply online and secondly is to give Wesbank a call. To apply online, they system is available 24/7 giving clients the ability to make applications at the comfort of their own spaces. You will qualify instantly when applying online, the system will give you an instant decision about your application. To apply through telephone, you need to call their friendly consultants on 0861 238 252, lines open Monday to Sunday. A consultant will help conclude your application over the telephone and give you instant decision about your application.
Wesbank Personal Loans Application Requirements
The following are all you need to apply:
A regular monthly income of at least R5 000.
A clear credit record.
Your last 3 months' payslips or bank statements.
A clear copy of your ID document.
Details of your bank account into which your salary is paid.
A recent document confirming your residential address.
Wesbank Contact Details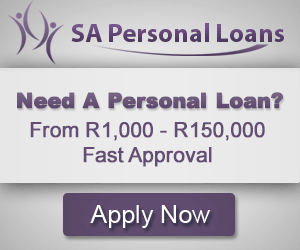 To find out more information on how to apply and benefit from personal loans, please call 0861 288 272 to speak to one of Wesbank's trained and professional consultants. Alternatively visit their website at www.wesbank.co.za to read more and make online applications.
// Use the loan calculator tool here