Many South Africans prefer a personal loan over any other credit solution out there.
Why?
Because these loans are easy to apply for and offer affordable interest rate.
If you want a clear understanding of how a personal loan could help you, then this article is for you.
Let's get started.
What is a Personal Loan?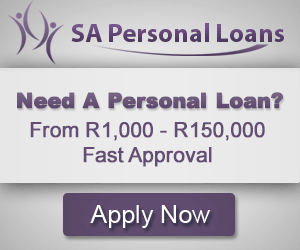 A personal loan is money borrowed from a financial institution. By taking the loan with accredited lender, you agree to pay back the money with interest.
Personal loans are usually offered at fixed monthly installments. And in most cases, loan terms would be customised to your expectations.
There are two types of personal loans you can apply for.
Secured Personal Loans
A type of loan where you put assets and other valuables to secure the amount you want to apply for.
Secured loans are very useful for people who have bad credit history.
Your credit rating is not important with these loans. You just need to submit an asset that is fully paid in your name.
Your property will be kept safe for term of the loan.
If you fail to pay back the personal loan, your valuable will be sold to settle the debt.
Unsecured Personal Loans
This is the most popular credit solution in South Africa.
Almost 90% of registered credit providers offer unsecured loans.
You will be granted a loan based on your credit rating. If you have a good credit record, then you'll be approved for high amount.
But there's a catch.
Because the entire application is based on your rating, lenders offer personalised loans at a high interest rate.
However, interest rates are regulated by the National Credit Regulator.
The idea is to recover the money as quick as possible.
If you fail to pay back the loan, the bank or credit provider will lose money because unlike secured loans, nothing backs up the loan application.
Personal loans in South Africa ranges from R500 to R300 000.
You can spend the money for any reason – however you feel fit, the choice is yours.
You can consolidate your debts, fix your car, pay for medical expenses and many other important things.
What you'll need to apply
Before you apply, here's a basic list of lenders wants with your application.
Copy of Identification Book or Smart ID
Pay slips – Latest 3 months
Banking Statements – Not older than 3 months
Proof of Residential Address
That's it.
If the lender wants more information, they will contact you.
Apply for Personal Loan
Here's a list of top loan companies in South Africa:
NB: Visit our loan calculator page here