Bad credit loans are personal loans for people who have low credit rating.
Loans are popular known as blacklisted loans.
How do you become blacklisted? I'll explain in the next sections.
Bad Credit Loans for South Africa
A lot of people in South Africa have bad credit record.
They became blacklisted by not being able to pay monthly installments.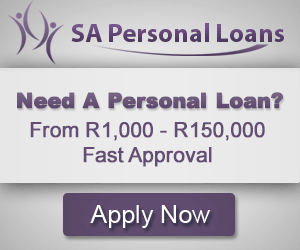 Maybe you have multiple loans, different retail credit accounts and struggling to pay all of them at once.
If you've tried to apply for a personal loan at various lenders at the same time.
You will be blacklisted.
And there's hope. You can recover from bad credit rating – it's not that bad.
Having bad credit history makes it very difficult to secure personal loans at established institutions.
Banks will never approve your loan application because you're considered high risk.
But here's the interesting part.
There are over 6 000 registered credit providers in South Africa, according to the National Credit Regulator.
How many banks do you know, about 10 right?
My point is that, there's always someone willing to assist.
Among the 6k lenders, there are some which specialises with bad credit loans.
They have a unique approach for processing your application while blacklisted.
And there's an alternative.
You could look and apply for secured loans.
Secure blacklisted personal loans with your vehicle or expensive asset.
You're not pawning the car, but a placeholder for the term of the loan.
Once you finish paying off the loan, then your vehicle will be returned to you as submitted it.
Here's how loans for bad credit in South Africa works
If you want to apply for bad credit loans, you'll have to do this through loan brokers.
A loan broker is an institution that connects loan seekers with legal lenders.
Usually, they partner with registered credit providers for fast processing of loans.
When you apply for a loan online, your details will be passed to credit providers to check.
Credit providers interested in giving you a lot, will send you an offer with the details.
You will choose a loan deal that best suits your pocket.
Loan terms and conditions will be explained to you.
Accept the terms and get money in your bank within a few hours.
Spend the money the way you want.
Understanding Credit Rating
Credit rating is a score used to determine your credit worth.
Loan seekers are rated with grades between 0 and 999.
Here's a breakdown of the scores:
| Score | Description |
| --- | --- |
| 760 and above | Excellent |
| 700 – 759 | Very Good |
| 660 – 699 | Fair |
| 620 – 659 | Poor |
| Below 620 | Extremely poor |
Self-explanatory, right?
A quick advise
You would want to improve credit rating with bad credit loans you've just qualified for.
When spending the money, you'd want to be wise about that.
Use the money to advance your lifestyle.
Make sure to pay your monthly installment every month. This alone will boost your rating so much.
Apply for Personal Loan
Here's a list of top loan companies in South Africa:
NB: Visit our loan calculator page here